About Us

NorState Federal Credit is a not-for-profit financial cooperative owned by each member who belongs to the credit union. As of February 2020, Norstate FCU had 14,414 members and assets over $200 million along with 78 employees. In addition to its six branch locations, the credit union also has 9 conveniently located ATMs.
Our History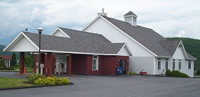 NorState Federal Credit Union was founded on March 9, 1941. A group of local leaders saw the need to provide financial services to the employees of Fraser Papers and took it upon themselves to serve that need. Over the seven decades that have followed, the credit union has evolved into the dynamic, full service financial institution that it is today.
From its humble beginnings in the janitor's closet at the Fraser Paper's mill to a multi-branch organization serving thousands of people, the credit union has followed a strict notion of service to its members. As peoples' needs and expectations have changed, so has the credit union in order to meet those needs and to live up to our goal of being "Your Lifelong Financial Partner."
Our Mission Statement

Working Together To Improve Our Members' Financial Lives

Our Vision Statement

NorState FCU is the most valued, respected and progressive provider of financial services to all residents of Aroostook County and Northern Penobscot County.
Did you know?
With your generosity, your credit union has donated in excess of $345,720.73 to local food pantries.
Board of Directors
Jeff Davenport, Chairman
Leigh Smith, Vice Chairman
Raymond Marquis, Treasurer
Muriel Dechaine, Secretary
David Mitchell
Bertrand Cyr
Sherry Locke