A Caring Community Credit Union
Ending Hunger Yard Sale & Crafts Fair
THIS SATURDAY, JUNE 5th - 9AM to 3PM in the parking lot of NorState FCU in Madawaska (corner of 25th Avenue & Fox Street). A Multi-Family yard sale, jewelry, household items, clothing & also food for sale on site! All proceeds from Yard Sale and hot dog sales go to local food pantries. Also, local crafters displaying their goods for sale. Rain Date: June 12th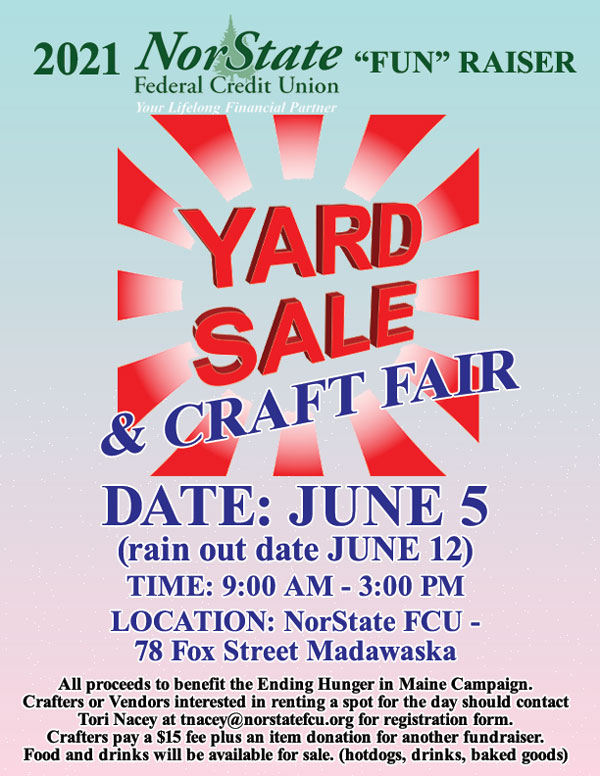 NorState's Music in the Park
2021 - NorState FCU has partnered (for the 3rd year in a row) with Madawaska's Music in the Park series, held annually on Thursday evenings in the town's Bicentennial Park. The local music series is well attended by many, thanks to a dedicated committee of locals who love to bring joy and music to young and old alike. A variety of local musicians, many of who donate or offer their time and talents at a reduced rate, keep the local event moving forward. The NorState Music in the Park series opens mid-June and is free to all who come to listen to local musicians from 6-8pm, every Thursday evening through September. Bring your lawn chair or a blanket, bring your family and friends, and enjoy the entertainment, vendors and the atmosphere of community! For more information aobut NorState's Music in the Park music series CLICK HERE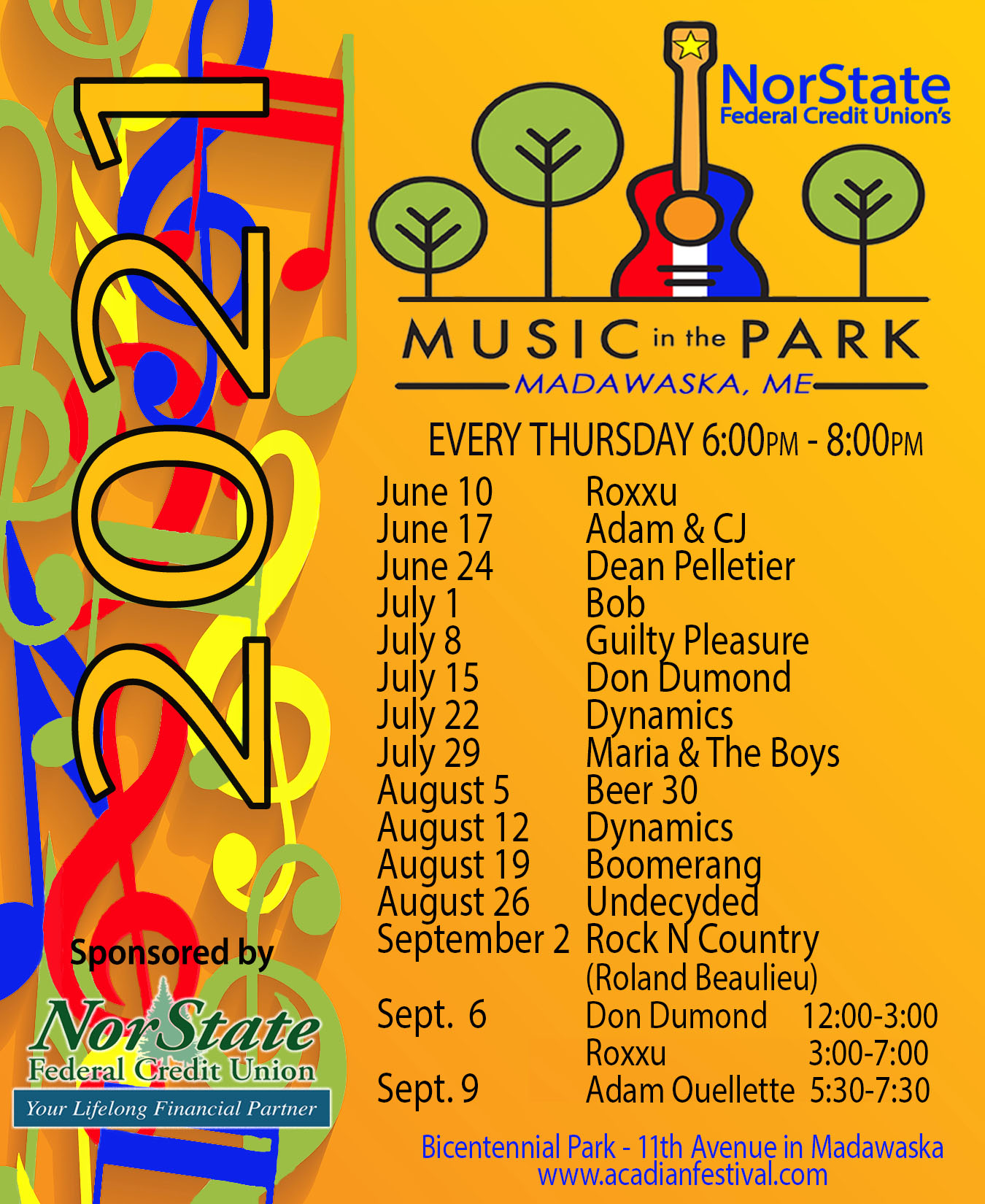 NorState's Charitable Campaigns
Campaign to End Hunger 100,000 Challenge, June 2021
Aligned with the shared principle of coming together to give back to our communities, credit unions across the state collectively participate in the Maine Credit Unions' Campaign for Ending Hunger. This signature social responsibility campaign is the largest, non-hunger organization-based philanthropic fundraising effort to end hunger in our state. Since the program's inception in 1990, Maine credit unions have raised over $10.4M to help end hunger. Each year, our network sets a new fundraising record, and 2020 was no different with $960,021.10 raised. The amount includes over $20,000 in food donations. Funding comes from four sources:
Credit Unions: Dollars raised by individual credit unions through fundraising activities such as payroll deduction, raffles, and events;
Chapters: Dollars raised by chapters from golf outings, auctions, and other activities;
MECUL/Synergent: Dollars raised by MECUL/Synergent from the annual golf tournament, auctions, and other activities;
Other: Dollars raised from corporations (both in and outside Maine), individuals, vendors, and others that share our commitment to ending hunger in our state.
The Campaign's distributions are allocated to three primary categories: local food pantries, schools, and Good Shepherd Food Bank. 9% of the funds distributed from the Campaign in 2019 went directly to Good Shepherd Food Bank's new Hampden Distribution Center and its Emergency Response Fund. While the League provides all the back office support and management for the Campaign, it is a separate organization and falls under IRS rules for a 501(c)(3) not-for-profit organization. This includes the requirement of securing W-9s from supported organizations and ensuring an appropriate accounting of all contributions and distributions to the Campaign.
People Helping People
NorState FCU lives by the Credit Union philosophy of "People Helping People." Credit unions across the country, including NorState FCU are committed to their communities, offering financial services to underserved populations, engaging youth in financial education, returning profits to their members, and supporting volunteerism. That's why NorState has established a volunteer program that encourages staff to give back to our communities. From volunteering at a local food pantry to spending time at an animal shelter to landscaping at a local park, our staff is dedicated to making a difference in our communities.
Coin Sorter Charity Fundraiser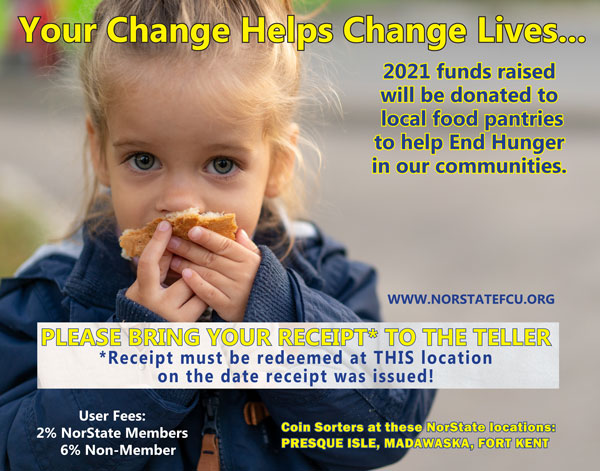 NorState FCU donates its annual member fees collected from our coin sorter machines located in Fort Kent, Madawaska and Presque Isle. Our 2021 Campaign will be for our local food pantries. Our 2019 charity were St. John Valley Associates, Northern Aroostook Alternatives and Central Aroostook Association. All 3 organizations serve adults with special needs. NorState FCU presented them each with a check for $2,000. Total donated, $6,000. Our 2020 charity will be to multiple Nursing and Assisted Living facilities in the county.
Previous year's recipients include:
2021: Local Food Pantries - Ending Hunger Locally - $ 2020 Activities Departments of multiple County Nursing/Assisted Living Facilities - $ 2019: Adults w/Special Needs Organizations - $6,000.00 2018: United Veterans of Maine - Farm of Hope: $6,561.47 2017: Special Olympics Aroostook Chapter - $7,827.28 2016 Heather & Liam Connection & Aroostook Autism Support Group - $8469.23 2015: Hope & Justice Project - $3,517.08 2014: American Red Cross - $1,687.02
Ending Hunger Campaign
NorState Federal Credit Union's Ending Hunger Campaign is a yearlong effort to raise awareness and funds for local food pantries throughout Aroostook County. NorState FCU's local efforts raised over $11,892.74 in 2020! Since the 90's, Maine Credit Unions have collectively raised over $9.4 million to help end hunger in Maine. 100% of all money raised stays in Maine and is distributed back into the communities that raised those funds.
All contributions are tax-deductible. To make a contribution to the NorState's Ending Hunger Campaign, stop by one of our credit union branches, or send check made payable to NorState End Hunger Campaign, 78 Fox Street, Madawaska, ME 04756. Make check payable to Ending Hunger Campaign.
The top seven credit unions in terms of dollars contributed to end hunger in Maine and per member contributions are annually recognized. Atlantic Federal Credit Union was the top credit union fundraiser in 2020, contributing over $138,000 to combat hunger in the state. Gardiner Federal Credit Union had the highest per member contributions at $3.56 per member.
2020 Top 7 by Category
Total Dollars Contributed to End Hunger in Maine
1st Place – Atlantic Federal Credit Union
2nd Place – Maine State Credit Union
3rd Place – University Credit Union
4th Place – Maine Savings Federal Credit Union
5th Place – NorState Federal Credit Union
6th Place – PeoplesChoice Credit Union
7th Place – Maine Family Federal Credit Union
Total Dollars Raised Per Member
1st Place – Gardiner Federal Credit Union
2nd Place – Maine State Credit Union
3rd Place – Atlantic Federal Credit Union
4th Place – NorState Federal Credit Union
5th Place – Sebasticook Federal Credit Union
6th Place – University Credit Union
7th Place – Seaboard Federal Credit Union
In need of a good knife? Buy quality and support local food pantries too!
Buy your RADA cutlery here and help support local food pantries in Aroostook County. CLICK HERE to view catalog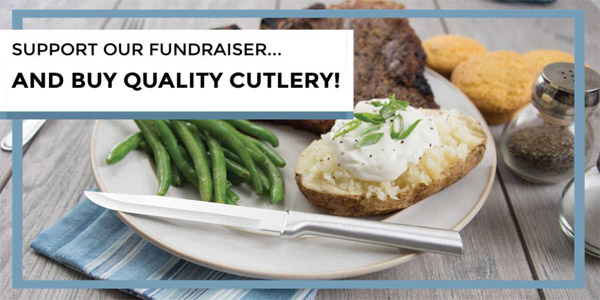 Hope for the Holidays Food Drive 2020
From December 1st to December 31, 2020, NorState FCU with it's branch locations in Madawaska, Van Buren, Eagle Lake, Ashland, Fort Kent, and Presque Isle helped to collect over 9600 lbs. of non-perishable food items for our local food pantries and $250 toward the Ending Hunger Campaign.